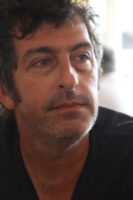 Hi I'm Paul Green and I've been making film and photography for approximately 30 years.
Over the last 5 years I have been traveling between Australia, Austria, Italy, Poland and Cuba where I have made a number of documentaries mostly combining history art and music, 3 of my main interests. Currently I'm making a piece for the Compass program at the ABC.
In 2014 I completed filming and sound recording for a feature length documentary based in Poland. I am about to start work as a camera and sound man for an American Director who will be doing some interviews for a documentary in Melbourne. I currently have work in progress on 3 other Productions.
Websites need interesting content, and good interviews are the backbone of any good documentary, mini documentary or corporate engagement video.
I provide a service of filming and editing broadcast quality, yet cost effective Video interviews. I have all the gear and the experience and I come to you.
Please call to discuss any projects you may be embarking on whether they relate to business or family history.