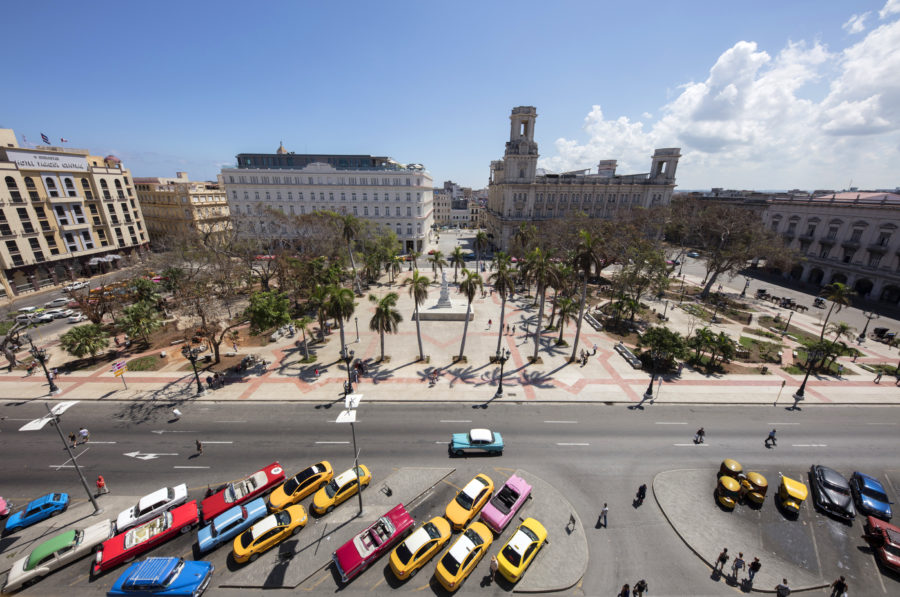 A reflection on my first three days in Cuba 12th, 13th,14th September 2017
I was supposed to arrive in Havana on the 9th September at 8pm but so did Hurricane Irma.  After 2 days in Zurich waiting for a flight I was transferred to Frankfurt where I waited to hear whether there would be a flight to Cuba that day but no.. the Cuban airports were closed. The biggest problem for the airlines was evacuating tourists from the resort area of Valadero which had been hit hard by Irma.
The near empty Condor flight from Frankfurt to Valadero and then Havana took off and a small group of Cuban and Italian passengers proceeded to get very very drunk, loud and boisterous, boasting and demonstrating  their portable sound systems.
The deal with this flight was that we passengers would get off the in Valadero to allow evacuated passengers to get on in Valadero and Havana . We would have to travel by collective car or taxi about 120km.
Side elevation of Teatro Nacional from roof of Hotel Inglaterra
12th September
First problem: The luggage didn't get taken off the flight in Valadero. We waited and waited and waited but due to inefficiencies by the airline and a very lazy and poor effort by airport staff it was explained to us that we could collect our luggage at terminal 3 in Havana the following day.
So passengers started congregating in the carpark of the Valadero airport trying to negotiate transport to Havana. By this time is was around 2am. A long queue for changing money also had to be waited out. There was no way any Cuban driver was going to accept Euros. Fares started to blow out from the normal amount of 80CUC to around 400CUC . Cuban taxi drivers are very good at assessment of supply and demand. Along with a European couple I negotiated a fare of 100CUC and the long dark night drive to Havana began.
Yailin (Centre Performing with her group "Vocal Renacer")
My main reason (my only reason) for coming to Cuba was to visit my girlfriend Yailin. We hadn't seen each other for 3 months and I wanted to see her after all the delays. I had booked a hotel room in Old Havana from the 9th September to 14th September but it had remained empty until my arrival at 6 am in 13th September. I wanted a place to stay in the event that I arrived before the hurricane but also a safe place for Yalin and her mother to stay if something happened to their house in the hurricane.
View from the roof of Hotel Raquel over Old Havana
Hotel Raquel in Old Havana is a beautiful old building and is a Jewish themed hotel. We stayed in the Abraham room number 101. There is a mezuzzah on each door and a small Judaica section in the lobby shop.
Jacob Room Hotel Raquel
13th September
Having paid for 4 nights in Hotel Raquel for 2 people without being there I asked the reception if I could have breakfast. I had checked in a 6am and they said because I had checked in early that breakfast wasn't available and I would have to pay extra.
In disgust I left the hotel to do get a decent breakfast at my favorite café in Old Havana, El Café.
From Parque central I went into battle to find a Taxi to drive me to the airport to retrieve my luggage. Once again the dutch auction system began. Starting at 60CUC I found a driver who was prepared to do the 2 way trip for 30CUC.
I found the lost luggage department at terminal 3 and proceeded to wait, and wait, and wait, and wait. The one commodity that has no value in Cuba is a person's time. It seems the electricity and computer system were not working but eventually after about 3 hours I was able to look for my luggage. I looked everywhere but couldn't find it. I was taken to a woman inside the airport who told me the flight hadn't come to terminal 3 it had come to terminal 2.    So I went in my taxi to see if my luck would be better at terminal 2.
After a short time I found my luggage and returned to Raquel and to see Yailin for the first time in 3 months which was beautiful.
14th September
We arrived at our apartment in Central Havana. It's a nice place in a street busy with human activity. There is an abattoir, many congregations of children playing, people of all ages sitting in the doorways passing that thing that has no value. I feel conspicuous when I walk around and even though I try to blend in Yailin tells me it is not possible. I am and will forever be a tourist in this place.
I was walking around the city trying to find AAA batteries. I went to Obispo, San Rafael and Galliano Streets but didn't have any luck. Things we take for granted are impossible to find here. The Cubans are creative, intelligent and imaginative in the way they deal with everyday obstacles. While looking at for batteries I met an American tourist named Bernardo. He was visiting from Pennsylvania with his daughter and spoke Spanish fluently.
He offered to buy me a coffee and asked if I knew of a good place. I took him to another favorite, Café Archangel in Concordia St. It was after I had finished my coffee that I realised I had been separated from my wallet. Welcome to Fucking Cuba!
Hotel Racquel is a nice building but never stay there especially if you don't like cold showers and appalling food. If you would like to hear Yailin's songs please check out the links below and like her fb page:
https://www.facebook.com/newtalentcuba/